The University has three songs that are well-known to UConn Nation. Whether you're searching for one because you're in the stands of a Homecoming football game or reminiscing about your UConn days, here are the lyrics and a bit of history for you.
UConn Husky (a.k.a. UConn Fight Song)
(Clap Along)
U Conn Husky, symbol of might to the foe.
Fight, fight Connecticut, it's victr'y, let's go (LET'S GO)
Connecticut U Conn Husky, victr'y again for the White and Blue.
So GO, FIGHT, GO, FIGHT, GO, FIGHT, GO
Connecticut, Connecticut U. (Spell it!)
C-O-N-N-E-C-T-I C-U-T. Connecticut, Connecticut Husky,
Connecticut Husky, Connecticut C-O-N-N-U. Fight! (repeat)
Fight On Connecticut
We must fight on for old Connecticut
We must fight on for Blue and White
We all have to sacrifice for our Huskies to win this fight
We must fight on until the glory's won
'Til we have vict'ry on our side
And when we win–we'll pin–the laurel on those Husky heads held high
U-C-O-N/N, U-C-O-N/N, U/C/O/N/N Fight!
We must fight on for old Connecticut
And then defend with all our might
We must teach the lesson well
That our DOG is in this fight
So let us never waver in our quest
And rest not 'til we score
Then standing proud– and loud
we'll cheer our UConn Huskies evermore
To the core! Huskies evermore!
Old Connecticut (Alma Mater)
Once more, as we gather today,
To sing our Alma Mater's praise,
And join in the fellowship strong,
Which inspires our college days.
We're backing our teams in the strife
Cheering them to victory!
We pledge anew to old Connecticut,
Our steadfast spirit of loyalty.
(Chorus)
Connecticut, Connecticut,
Thy sons and daughters true
Unite to honor thy name,
Our fairest White and Blue.
When time shall have severed us far
And the years their changes bring,
The thought of the college we love
In our memories will cling.
For friendships that ever remain
And associations dear
We'll raise a song to old Connecticut
And join our voices in our long cheer
(Chorus)
Connecticut, Connecticut,
Thy sons and daughters true
Unite to honor thy name,
Our fairest White and Blue.
The History of the UConn Husky Fight Song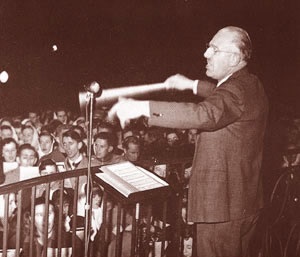 The 1940 Nutmeg, in a write-up on the University Band, notes that "the band with its snappy arrangements, especially of 'The Husky Song,' is an enjoyable part of all our athletic contests."
Everyone knows "The Husky Song," right? Well, not this one. Not unless you were at the University between 1940 and the mid-1950s. Because the song referred to in the 1940 Nutmeg is not the song you think it is.
What is now known as "The Husky Fight Song," actually titled "UConn Husky," was written sometime in the late 1940s by Herbert France, who started the music department. But that's getting ahead of the story.
It was in 1939 that Connecticut State College became the University of Connecticut. Although the Husky had been the mascot since 1934 – after Connecticut Agricultural College became CSC and the nickname Aggies no longer applied to our athletic teams – the use of "UConn" didn't become widespread until the 1940s.
The first published use of "UConn" was in the October 24, 1939, issue of the Connecticut Campus, in a headline: "U-Conn. Cross Country Team Over- whelms Yale University."
In the late summer of 1939, entrepreneur Fred Waring launched a new feature on his National Broadcasting Company (NBC) radio program. Fred Waring and Pennsylvanians was a well known big band of the era, and Waring had invested in the household invention that became known as the Waring Blender.
The Connecticut Campus reported on October 24, 1939 that Waring received a letter from a student at Colby College in Maine stating "that his school needed a new pep song and there seemed to be a scarcity of composers in the field. Waring presented the Colby song on the air and offered to write more tunes and give them a sendoff on his program. He was immediately stormed with requests and now new songs are an important part of his show."
One of the people who took Waring up on his offer to write more collegiate songs, was Tom Leonard, a junior from Waterbury and managing editor of the Connecticut Campus.
He wrote to the band leader asking him to compose a new song for "the U of C."
Waring agreed. And on November 24, 1939, he premiered "The Connecticut Husky," subtitled "The Mascot Song," the fifth in his series of college songs.
A contingent of about 30 students, faculty and alumni attended the live, 7 p.m. broadcast of "Pleasure Time" in New York.
"Thrilled to the words, 'Fight, fight, fight, Connecticut, fight', hundreds of loyal Connecticut rooters glowed with satisfaction last Friday night as Fred Waring and his Pennsylvanians introduced their Connecticut fight song, 'The Connecticut Husky,'" reported the Campus on November 28, 1939.
"Equally eager to be 'in' on the first playing of what will undoubtedly take its place as one of our leading college songs, hundreds on campus bent an ear to their radios at the appointed time," the Campus continued.
For more than a decade, the song was "one of our leading songs." The words, possibly written by Pat Ballard, who is credited with Waring for the composition, were published each year in the student handbook from 1940 until 1953. Then it slipped into oblivion.
What took its place is the familiar "UConn Husky," which first showed up in the handbook, along with the Waring tune, in 1949-50.
The handbook notes that "UConn has many songs, but there are really only three which you'll find sung at all rallies and football games. These are the fight song, Connecticut Husky, better known perhaps by its first line, 'On the Rolling Hills Beneath the Blue,' the driving 'UConn Husky' and the nostalgic Alma Mater."
"UConn Husky" was written by Herbert A. France of Coventry, who joined the staff of Connecticut Agricultural College in 1931 to start up the music department and lead campus choral groups.
He was department head until 1949, and retired in 1960. He died in 1971, and in 1981, at the University's centennial, his family gave UConn the rights to the song.
The current arrangement of France's "UConn Husky," as played by the UConn Marching Band, is an adaptation by David Maker, professor of music, of an earlier arrangement by Jerry Bilik.