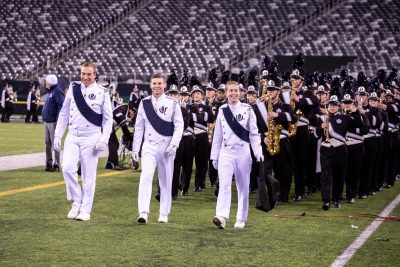 Drum Majors
Drum Majors function as the musical, motivational, logistical, and organizational leaders of the band. The Drum Majors conduct the band during performances and rehearsals. They also correct errors, style issues, and review fundamentals with the band prior to each rehearsal. Drum Majors are involved with the implementation of all activities and events related to the UCMB. Detailed information regarding auditions and applications is released towards the end of the regular season.
JUSTUS CARNEY
Senior
Psychology
Hanover, MA
CASEY COON
Senior
Music Education
Milford, CT
ALLAN LIAN
Senior
Analytics and Information Management
New Milford, CT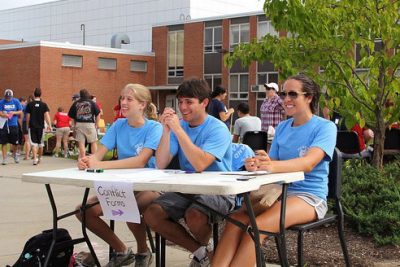 Band Captains
Band Captains serve many of the same functions as the Drum Majors, except they are on the field during performances. They act as instruction and development coordinators for the Section Leaders throughout the year, and assist with the consistency and cohesion of individual member instruction. Band Captains assist the Drum Majors to build and maintain the spirit of the Pride of Connecticut from the moment of their appointment.
JOHN BLACKSTONE-GARDNER
Senior
Music Education
San Diego, CA
TREVOR MESSINA
Senior
Music Performance
Southington, CT
DEVORA TRESTMAN
Junior
Music Education
Bristol, CT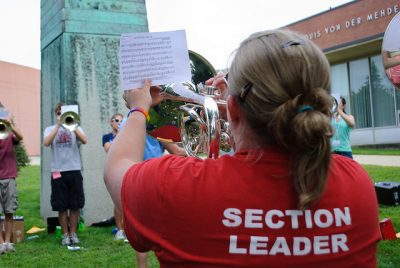 Section Leaders
Section Leaders are in charge of the musical and marching performance of their section. They manage operations and communications on a daily basis. They are also responsible for the recruitment of new members to their section. Section Leaders guide each member of their section through the learning process, and are mentors to their section both on and off the field. These positions are available to all members of the band, and selection requires an interview and audition with the directors.
ANGELA JIANG
Drumline- Cymbals
Senior
Chemical Engineering
Suffield, CT
GERALD GORY
Drumline- Snare
Junior
Mechanical Engineering
Murfreesboro, TN
NEIL HENOSTROZA
Tuba
Sophomore
Music
Norwich, CT
FRANCISCO DEVEVO
Drumline- Tenors
Senior
English
New Britain, CT
ELI LOW
Drumline- Bass
Senior
CLAS
Dover, NH
KAYLA VILLAREAL
Tuba
Junior
Landscape Architecture
Dumont, NJ
JAMES MORAN
Mellophone
Junior
Molecular & Cell Biology
Chesire, CT
JULIA KOSKI
Mellophone
Junior
Diagnostic Genetic Sciences
Moosup, CT
MICHAEL GARBIEL
Mellophone
Senior
Music Education
Newington, CT
HAILEY KAMPTON
Clarinet
Senior
Animal Science
Valley Stream, NY
HELENA YAWIN
Clarinet
Junior
English and Political Science
Plainville, CT
CAITLYN CORSETTI
Trumpet
Senior
Music Education
Broad Brook, CT
MICHAEL REED
Trumpet
Senior
Music Education
Huntington, NY
JULIE WAKEFIELD
Trumpet
Senior
Graphic Design
Southington, CT
DOUG SULLIVAN
Baritone
Junior
Applied Mathematics
Raritan, NJ
CHANDLER CREEDON
Baritone
Senior
Music Performance
Woodstock Valley, CT
CAROLINE SHADMAN
Baritone
Junior
Music Education
Northford, CT
GEORGIE HUNTER
Saxophone- Tenor
Junior
Mechanical Engineering
Frederick, MD
AMANDA JACOBS
Saxophone- Alto
Junior
Secondary Mathematics Education
Poughkeepsie, NY
GREGORY LOGAN
Saxophone- Tenor
Senior
Music Education
East Granby, CT
LUKE OLSEN
Saxophone, Alto
Junior
Music Education
Stafford Springs, CT
KATHERINE SUAREZ
Piccolo
Senior
Music Performance
Hillsdale, NJ
SARAH SWENSON
Piccolo
Sophomore
Music and Spanish
Madison, CT
AHMED ABDELHADY
Trombone
Senior
Computer Science
Bristol, CT
ANDREW ROZZI
Trombone
Junior
Music
Milford, CT
COLBY CALVIN
Trombone
Junior
Computer Science and Engineering
Montebello, NY
LIZ MARQUIS
Color Guard
Junior
ACES - Anthropology
Norwood, MA
CARLIE KUBISEK
Color Guard
Senior
Digital Media and Design
Southington, CT
GREGORY RODRIGUEZ
Color Guard
Junior
Physiology & Neurobiology
Wallingford, CT
ALEXANDER MOLINA
Front Ensemble
Sophomore
Biomedical Engineering
Alexandria, VA
CHARISMA FARRINGTON
Logistics Coordinator
Junior
Pre-Law & Psychology
Rutland, MA
SHANE MOLA
Logistics Coordinator
Junior
Ecology and Evolutionary Biology
Butler, NJ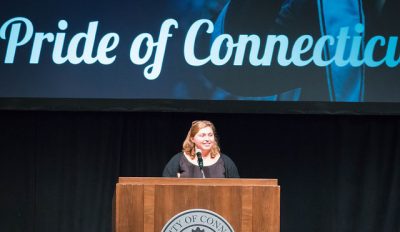 Band Council
Band Council is the governing student body for the band and assists with everything from planning Preseason to recruiting new members. The band council also raises funds for special projects within the Marching Band. All officer positions are elected at the end of each season. During the fall semester, the Band Council meets every Monday night at 9:00 p.m. in either the Music Building or the Student Union. All UCMB members are encouraged to attend.
ISABELLA BLASI
President
Junior
Linguistics/Psychology
North Haven, CT
JESIBELL ESPEJO
Vice President
Junior
Political Science
Port Chester, NY
ABIGAIL PLIZGA
Secretary
Sophomore
Music Education
Attleboro, MA
JOHN-HENRY BURKE
Treasurer
Junior
Environmental Science
Suffield, CT
EVIN BERUBE
Historian
Sophomore
CAMS
Bristol, CT
JILLIAN MILTON
Webmaster
Senior
Digital Media and Design
Union Beach, NJ
GEORGIE HUNTER
Merchandise Coordinator
Junior
Mechanical Engineering
Frederick, MA
DANIEL FITZPATRICK
Mental Health/Wellness Coordinator
Senior
Anthropology
Roxbury, CT
TOMAS MALDONADO
Social Coordinator
Sophomore
Communications
Meriden, CT
TREVOR MESSINA
Recruiting Chair
Senior
Music Education
Southington, CT
TAINA SMITH
Recruiting Chair
Sophomore
N/A
New London, CT
ALEXANDRA O'BOYLE
Social Media Chair
Junior
Psychology
Red Bank, NJ
PALIN DIETZ
Alumni Liaison
Sophomore
Molecular and Cell Biology
Norwich, CT
SENA SATTARPOUR
Media Liaison
Senior
Computer Science
Wallingford, CT
CHARISMA FARRINGTON
Junior Representative
Junior
Pre-Law & Psychology
Rutland, MA
TANNER MARCHESE
Sophomore Representative 
Sophomore
Political Science
Westerly, RI
JACKSON BELL
Sophomore Representative 
Sophomore
Music Education
Waterford, CT
AMANDA JACOBS
Junior Representative 
Junior
Secondary Mathematics Education
Poughkeepsie, NY
MEGAN KELLY
Junior Representative 
Junior
Animal Science
Meriden, CT
KAYLA VILLAREAL
Junior Representative 
Junior
Landscape Architecture
Dumont, NJ
JOHN BLACKSTONE-GARDNER
Senior Representative 
Senior
Music Education
San Diego, CA
ELI LOW
Senior Representative 
Senior
CAMS and Anthropology
Dover, NH
KAYLA SICOTTE
Senior Representative 
Senior
Dietetics
Bristol, CT
SOPHIA LEBRON
Senior Representative 
Senior
Biology
Jackson, NJ